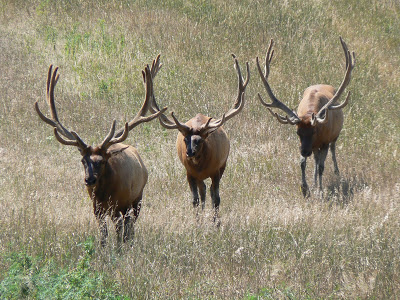 We're real.
Real hunters. Real life. Real gear. Real fun.
"What is a LocaCarnivore?" you ask. "And why does it need a website?"

LocaCarnivore, lo-kuh KAR-ni-VORE
n. A hunter who lives off locally-harvested meat.
What makes LocaCarnivore different than other hunting sites?
We're real. We're dedicated to all you everyday hunters. The working hunters and semi-subsistence hunters who can't afford the money or can't afford the time for fantasy "bucket list" hunts. Every season you go out there to feed your families in the limited time you have available. All the other hunting and firearms
journals focus on fantasy hunting, not you, the real people who keep this multi-million dollar industry alive.
LocaCarnivore is run by real hunters, not media personalities. We know the hard work and frustration you face as you try to fill you freezer with meat. We know how hard it is to find good places to hunt, good gear you can afford, and most important, how hard it is to find game. We are you, and we respect you.
At LocaCarnivore, we focus on your needs and budget, not what some marketing guys in an office think you want and need. We will always tell it to you straight: no filters, no hype, no kidding.
LocaCarnivore is dedicated to hunters who hunt in
their immediate geographical area–no more than a three-hour drive
from home. Each week we strive to bring
fellow LocaCarnivores the most up to date information on local hunting access, tactics,
equipment, land-use issues, game conservation, and habitat preservation. Plus entertaining first-hand accounts, and anything which helps you hunt better.
Join us everyday. Together, we will succeed.